Read:
Author Sarah Burns: How To Write A Book That Sparks A Movement Authority Magazine, Nov 5, 2021
"Pursue all of your desires with passion. You cannot convince others of the viability of your purpose without passion. Your commitment to any project deserves your utmost passion. Others can recognize when there is no substance to your words. They aren't buying the words if you aren't possessing what you're selling."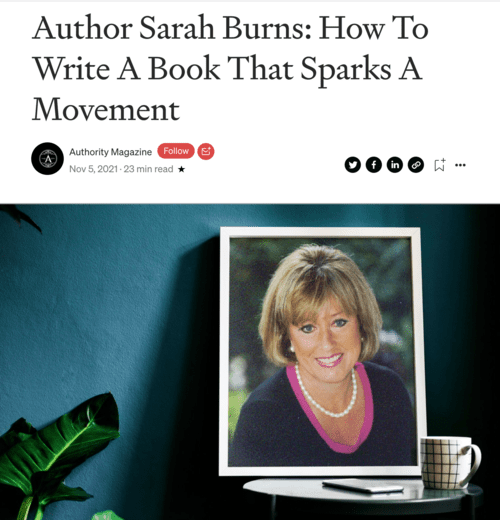 Listen:
Matt Nappo interviews Sarah about Cookesville U.S.A. MinddogTV | simplecast.com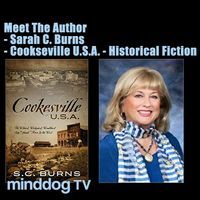 Watch:
Sarah talks about Cookesville, U.S.A. on The Mike Wagner Show
Romance and Passion in the Wild West
Looking for the best historical fiction book that combines Mexican American War, Cookesville USA, and Western romance? Look no further than this fictional storybook by a talented historical fiction author! With a mix of historical romance, crime mystery, and vigilante justice in the West, this book is sure to captivate readers. The plot also features California pioneers, Native Americans in California, Las Vegas and the Mob, and secret sex in the 1950s.
Whether you prefer a traditional historical fiction romance book or a Western crime thriller with erotic romance, this author has you covered. Plus, fans of graphic novels will appreciate the historical fiction graphic novel included in the series. Don't miss out on this opportunity to explore the Western history and fabulous fifties in California through the eyes of a skilled author.
The Mexican American War is a popular setting for historical fiction books, and if you're looking for the best historical fiction book, a historical fiction romance might be just what you need. If you're interested in finding a great historical fiction author, look no further than Cookeville USA, where you can find a variety of genres including fiction historical books, historical fiction graphic novels, and historical fiction romance books. If you're in the mood for a crime mystery book, the West is the perfect setting for western crime thrillers and western romance & crime stories. Other popular topics in the West include California pioneers, California history and romance, California historical crime, and vigilante justice in the West. For a unique spin on the genre, consider checking out cowboys, sex and crime or stories set during the fabulous fifties in California. Additionally, there are many great books that focus on native Americans in California or the mob crime in Las Vegas. If you're interested in the latter, you might enjoy books about investigating the mob in Vegas or stories about Western crooners and crime. For a steamy twist, try western crime with erotic romance or stories that delve into secret sex in the 1950s.
From an interview with Writer's Digest
What was the impetus for you writing "Cookesville U.S.A: The Wildest, Wickedest, Wealthiest Big Small Town In the West?"
Perhaps you can remember a regular article in the Reader's Digest called, "My Most Unforgettable Character." Well, I eventually met someone whose chosen profession and lifestyle so shocked and impressed me that I had to tell his story. When I heard that someone in Hollywood also wanted to tell his story, I was totally hooked. "Lynnie" was the "fixer" for the leading criminal defense law office in town. He was a dedicated snoop and investigator in the old gumshoe style—but with immense panache and style. I had been very involved in the Bakersfield community for decades, through various social and career choices when I met the man who is still my partner today. He spent decades in the legal community—first as a criminal defense attorney, then a public defender, eventually a family law specialist, and finally as a Deputy Commissioner for the Board of Parole Hearings in the California Department of Corrections and Rehabilitation (CDCR). With him, I have met and socialized with many people in the local law enforcement community. However, one of his associates was a stand-out. My fictional character, "Lynnie," is based upon that unforgettable character, and he served as the final impetus for writing stories about this town—its social and political scandals, crimes, trials, and torrid love affairs (extramarital and otherwise). There is good and evil in every community, but when a community has defined borders (unlike the wide expanse of Southern California), the stories become more potent, volatile, personal and positively erotic and exciting. If you've lived here long enough, and been active in the community, you realize that others can tell a story about you—whether it's true or false. The investigator I knew personally shared the most salacious stories I had ever heard, and most community leaders knew this man well. He did impeccable work and he left his indelible mark on Bakersfield. In fact, he made his mark all the way to Hollywood and back. Dennis Quaid approached him about making a movie about his involvement in a nationally known murder trial, which took place in Bakersfield. When "Lynnie" (fictional) shared this with Steve and I, in my home, over dinner, I knew that I must write his story.
Can you tell us what the book is about?
While the story of "Lynnie's" life flows from the mid-20th and into the 21st centuries, the full story of the establishment of Cookesville, U.S.A. takes the reader from the era of the Mexican War (1846-48), to the gold fields of California, and the establishment of this central valley town. The fictional valley of San Andreas serves as that central valley, and Frank Cooke becomes the founder of Cookesville in 1850—the year that the state of California was established. From that point, the real history of California is told—a story of vigilante justice, the subordinate position of the West's indigenous peoples (Native Americans). Additionally, the Spanish and Mestizo races, the Chinese who worked first in the gold fields, the railroads and then matriculated throughout California—all combine to help advance the white man. Frank Cooke married a young Choctaw woman during his time in Santa Fé, New Mexico before making his fortune in California. When they move back to the southern San Andreas Valley, through which they transited during their move to California, they bring an entourage of all of the aforementioned ethnicities and races; and they each transplant their cultures into the town of Cookesville, California. Their interdependent and related stories are woven throughout the 20th century, and we learn about them through the experiences of both the Cooke family (the stalwarts of the community) and "Lynnie," whose real-life counterpart was an investigator par excellence. I can compare Lynnie to Michael Connelly's Harry Bosche, in his relentless pursuit to uncover the truth and discover corruption. More importantly, I can compare him to Ray Donovan in his ability to cover up that truth, as an investigator for hire. In both comparisons, however, Lynnie is far more meticulous—about his personal appearance, his self-control, and his ability to hide any trace of himself at the scene of the crime.